SculpSure Laser Body Sculpting Without Surgery
Your appearance is a big part of how you represent yourself and should closely reflect how you feel. But even with diet and exercise, most people have stubborn pockets of fat that seem impossible to lose. These spots can leave us looking less wonderful than we feel.
---
We are pleased to announce the addition of the SculpSure laser, the first FDA-approved non-invasive, warm laser treatment for fat reduction. SculpSure's body sculpting technology targets and destroys fat cells without affecting the skin's surface, and without surgery or downtime.
SculpSure's non-surgical 25-minute procedure uses light-based technology to destroy up to 24%1 of treated fat in problem areas such as the abdomen and love handles. Over time, these damaged fat cells are naturally absorbed and removed from the body, with optimal results typically seen at 12 weeks.
To help you look your best, we work together to create a treatment plan that will provide you with the best result possible. At the end of the day, you deserve to look and feel wonderful when you see your reflection!
Achieving a slimmer, more sculpted appearance is possible with the help of SculpSure. Schedule your complimentary consultation today to learn more about your customized SculpSure treatment.
"To be able to achieve this level of body sculpting without surgery or recovery time is a real game changer in the field of body contouring," says Dr. Rohan Bissoondath.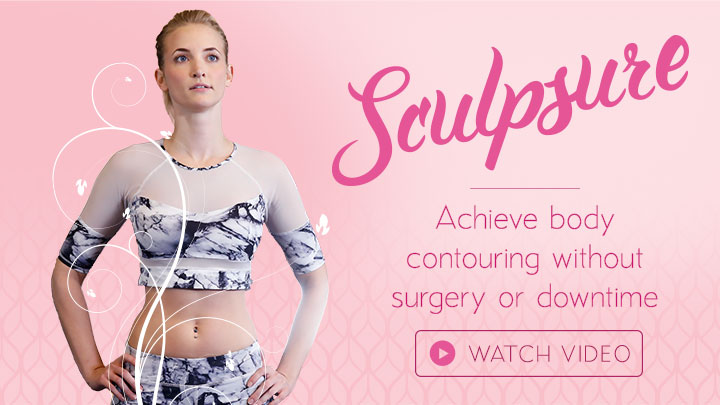 ---
SculpSure Q
&

A: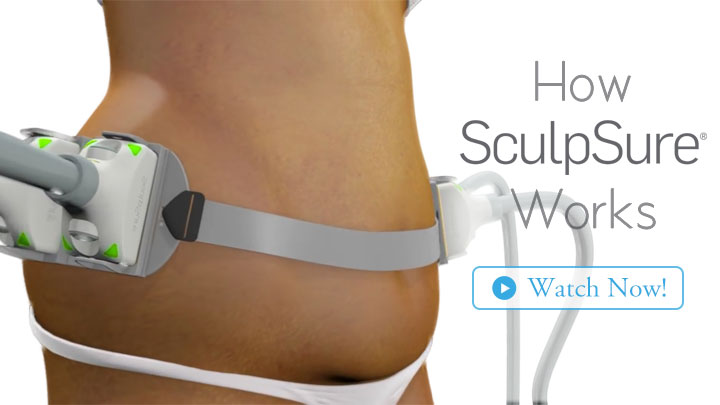 Is SculpSure right for me?
SculpSure is ideal for people with trouble spots, particularly those that seem resistant to diet and exercise.
How many treatments will I need?
Every patient is different. The SculpSure device has four applicators that can be customized to treat areas of stubborn fat. We work with you to develop a customized treatment plan to meet your desired goals. Schedule a complimentary consultation to discuss what treatment plan is best for you.
What should I expect during my treatment?
Most patients feel a warm, tingling sensation intermittently throughout the treatment, which is generally well tolerated.
How long will my results last?
Treated fat cells are destroyed during the treatment and will not regenerate.
When will I see results?
Patients may start to see results as early as 6 weeks following treatment as the body begins to evacuate the destroyed fat cells, with optimal results usually seen at 12 weeks.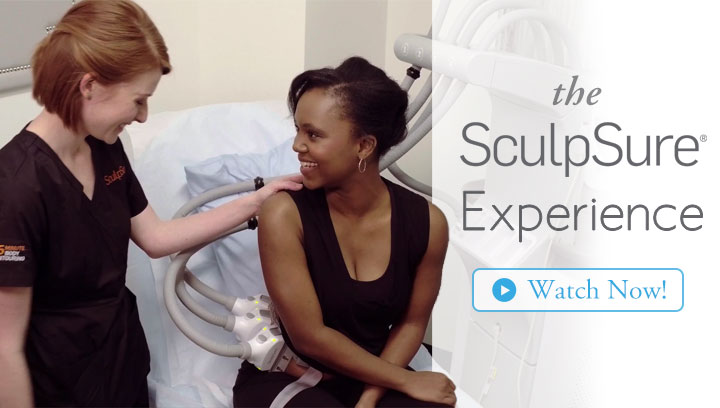 How long after my treatment can I resume normal activities?
There is no downtime with SculpSure, so you can have the treatment during your lunch hour and return to work. Most patients will not be able to tell they just had treatment done other than a temporary redness (erythema), swelling, and slight sensitivity to the treated area, which resolves within a few hours. Patients often describe the post-treatment sensation as feeling similar to muscle soreness after a good abdominal workout.
What is the difference between SculpSure fat loss and weight loss?
The number of fat cells stored in our bodies typically remains constant throughout adult life. As we lose weight, fat cells become smaller, but typically do not decrease in number. Even with diet and exercise, it can be hard to lose weight in areas with fat cells. With SculpSure, the fat cells are destroyed and will not return.
Who's an ideal candidate?
This laser is colour blind so it is safe for all skin types. The ideal candidate will have a BMI of 30 or less, but that doesn't mean that someone with a BMI of over 30 is not a candidate. Patients with unstable medical diseases or pregnancy are not good candidates. Candidacy is really determined by goals and expectations and can be discussed at your consultation.
How does SculpSure compare against other body sculpting devices?
SculpSure is the next generation of non-invasive body sculpting technology. In less time, you can achieve amazing results with SculpSure fat reduction treatments. Compared to other body contouring devices, such as CoolSculpting, SculpSure offers better results with shorter treatment sessions, less recovery time, and fewer side effects.
How do I tighten loose skin if I am destroying fat?
Preventous Cosmetic Medicine offers combination therapy for fat reduction and skin tightening for patients experiencing skin laxity and stubborn pockets of fat. By combining our Venus Legacy radiofrequency device for skin tightening with our SculpSure fat reduction technology, patients end up with better contours, thinner zones, and tighter skin.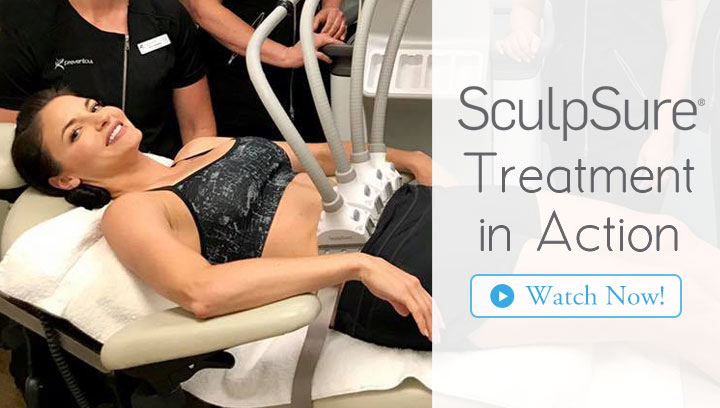 What should I do post treatment?
Gently massage the area twice a day for 5-10 minutes. Massage should be continued until your next treatment or for 12 weeks after your last treatment. Staying well hydrated and engaging in light physical activity helps mobilize the disrupted fat for processing through the lymphatic system. We encourage you to drink at least 6-8 glasses of water a day and take a daily walk or continue your regular exercise routine.
What kind of anesthetic is used during the treatment?
There is no topical or local anesthetic required. During the procedure, patients will feel intervals of heating and cooling. The cooling phase is delivered to the skin's surface to keep the patient comfortable and to protect the skin's surface.
How do I schedule a consultation?
To schedule a consultation simply fill out the Book a Complimentary Consultation form and a client care representative from Preventous will contact you shortly. A consult has no cost associated with it and you will receive a comprehensive assessment tailored to your individual needs.
---
---
---
---
Sources: 1 Single treatment with an average in fat volume as measured by MRI; Clinical and HistologicalEvaluationsof a 1060nmLaserDevicefor Non-InvasiveFatReduction-JohnW.Decorato,MD.,FACS.RafaelSierra,Ph.D., BoChen,Ph.D., Westford, MA, 2014.
---