Laser Skin Resurfacing for Beautiful Skin
Fractional laser skin resurfacing is an easy and effective way to get the youthful, beautiful skin you always wanted – without surgery!
---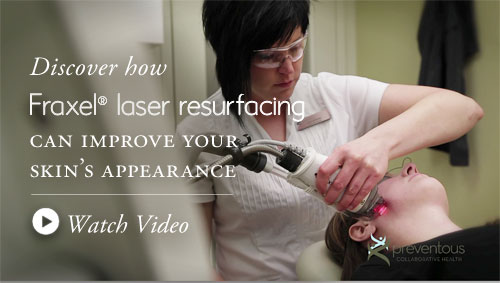 With laser resurfacing, you can quickly and easily improve the appearance of:
Age spots
Sun damage
Wrinkles
Skin tone and texture
Acne and surgical scars
Stretch marks
How Laser Skin Resurfacing Works
Laser energy micro-beams are directed at areas of affected tissue. After treatment, the body's natural healing process creates new, healthy tissue resulting in healthier and younger looking skin.
Depending on the condition being treated, you may have a single treatment or a series of progressive treatments.
Fractional Non-Ablative Skin Resurfacing
A simple treatment approach that promotes skin coagulation without requiring costly preparation and cleanup, yet delivers excellent aesthetic results with minimal redness or swelling.
Fraxel® Laser is an effective treatment for wrinkles, improving tone and texture and erasing brown spots.
Fractional Ablative Skin Resurfacing
Deep skin resurfacing that lets you control ablation depths for single-procedure outcomes that get people back to their regular activity in as little as two days. The results rival those of fractional CO2 laser treatment, with fewer complications, less pain and faster recovery.
Fraxel® re:pair is an ablative treatment that smooths and tightens your skin and softens frown lines and wrinkles.
What to Expect
Treatments are usually very quick, typically taking no more than an hour for less aggressive procedures. Recovery time is minimal for some treatments and only a few days for more aggressive ones. In most cases, you will experience little pain during the treatment. Numbing creams or other pain reducing agents may be used to further minimize discomfort. Laser skin resurfacing is effective for most skin types. Side effects typically include temporary redness, warmth and swelling lasting only a few days.
To find out if laser skin resurfacing treatments are right for you, contact us today for a complimentary consultation and assessment.
---