Fraxel® re:store Laser Skin
Resurfacing
Restore your skin's youthful vitality with Fraxel® re:store laser treatments that address issues on the surface and in the deeper layers of your skin, resulting in a smoother, younger appearance.
---
Fraxel® laser is an effective treatment for wrinkles, good news in Calgary's dry, sunny climate. Results include improved tone and texture, erasure of brown spots and improved appearance of surgical and acne scars. It can be used on the face, neck, chest, back, arms and legs, and it's effective for treating pre-cancerous lesions.
How Fraxel® re:store Works
Using patented fractional technology, Fraxel® laser treatment targets damaged skin. Microscopic laser columns penetrate the skin to reduce the effects of sun, stress, fatigue and pollution. Because the laser only treats small fractions of tissue at a time, it stimulates your body's healing process, which results in the replacement of old and damaged cells with fresh, new, healthy skin.
The dual laser has the advantage of two treatment modes: one that penetrates deep to target issues like acne scars or wrinkles around the eyes, and one that targets surface issues, like tone, texture, and signs of aging. Your treatment is customized to you to help you achieve the outcome you desire.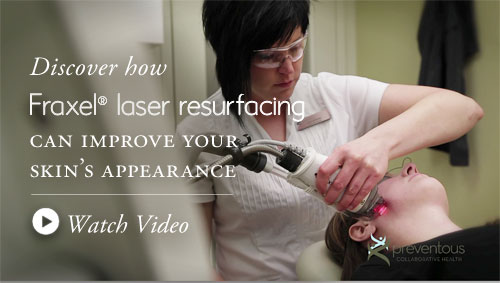 What to Expect
You'll notice softer, smoother, brighter skin soon after your first treatment. Over 3-6 months, your skin will continue to improve as deeper layers create new collagen. With the proper care, the results can be long lasting.
You may notice redness and/or swelling after treatment. This is typically gone in 1-3 days. Over the next two weeks, your skin will take on a bronzed appearance. The sunburned or bronzed appearance will reoccur after each treatment. Each time, your skin will flake and exfoliate as it would after a sunburn, revealing your fresh, new, smoother skin.
The number of Fraxel® laser treatments you receive will depend on your goals. We'll develop a customized treatment plan that works for you, fits your lifestyle and meets your objectives.
---
Before
After
Individual results may vary
---
Contact us today for a complimentary consultation and assessment.
---