How To Boost Injectables Results with Skincare & Treatments
If you're looking to prolong the results of your dermal fillers and neuromodulators, there are treatments and products to ensure your natural-looking results will last longer.
According to RealSelf, 94% of patients are satisfied with their dermal filler treatments. It means that, after your injectable treatment, there is a high probability that you will be feeling as amazing as you look! The effects of dermal fillers can last anywhere between three months to two years. It depends on the product being used and where on the body the product is being injected, but most people don't know that results can be boosted and prolonged with the use of some of our skincare products, as well as our other treatments. 
Injectable treatments also include neuromodulators that work to target the muscles that contract, causing wrinkles and fine lines. With these muscles relaxed, you will see a decrease in these lines, and finding treatments can enhance your results. By combining other treatments and products with your injectable fillers, you can give your skin an overall hydrated and healthy look.
The HydraBoost
HydraBoost is a refreshing and rejuvenating treatment aimed to bring life into the skin by stimulating new collagen and providing hydration. This treatment can give you a more refreshed, volumized look while working with your injectables to reduce fine lines and wrinkles. 

Why is the HydraBoost so effective?
The HydraBoost treatment is so effective because it uses the combination of hyaluronic acid and micro-needling to allow for topical products to permeate the skin deeper, allowing your skin to more effectively utilize the nutrients. 
Although hyaluronic acid is naturally occurring in our skin, the levels in which it is produced decrease as we age. When we experience this loss of hyaluronic acid, our skin reduces in structure and volume, which causes wrinkles to look more pronounced. By adding the hyaluronic acid back into the skin, we are able to increase hydration and generate new collagen for skin tissue. 
Microneedling
Microneedling has quickly gained popularity for its ability to treat a wide array of skin conditions and concerns like acne scarring, sun damage, and pigmentation. Additional to reducing fine lines and wrinkles, microneedling also increases your skincare products' efficacy. 
The procedure itself is performed by a practitioner, who will use a device with multiple needles that penetrate the skin. The tiny holes that are then created are a micro-injury, which stimulates the production of collagen and elastin, allowing the skin to undergo a process of regeneration and renewal. In the HydraBoost treatment, this device is used in combination with hyaluronic acid to give 80% more absorption of the product. 
What to Expect at Your Treatment
The practitioner will section off your face, and work in small increments to deliver the product through the device deep into the skin. This process is repeated throughout each section of the face to ensure full and even coverage. The entire treatment takes approximately 30 minutes.
After your treatment, you may experience some redness and small micro-bruises for a few days. You can wear mineral makeup the following day to effectively cover some of this redness. Most patients see a difference within a week of their treatment, but the peak of appearance will take effect in 4-6 months after the treatment. It takes a longer amount of time to see the full effect because collagen and skin remodelling will be complete at the 4-6 month time frame. 
Will it Hurt?
Because the microneedling device is so precise, you should have very minimal pain or discomfort. Our talented practitioners are trained to ensure your comfort is a priority. 
After the treatment, other than some redness and possible small bruising, your skin should be hydrated and refreshed. The Hyaluronic acid boost occurs immediately and you should feel clean and clear. 
Am I a Candidate for HydraBoost?
You most likely are! HydraBoost is a treatment made for many skin types and ethnicities to treat a wide array of skin concerns. The treatment can be customized to ensure optimal glowing and refreshed skin post-treatment. 
Pairing HydraBoost with Injectables
Because of the treatment's ability to encourage collagen production and boost hyaluronic acid levels, it works together with your injectables to reduce the look of fine lines and wrinkles. 
Your injectables work with your muscles to relax targeted areas from muscle contractions that cause wrinkles. Although injectable fillers must be maintained, you can boost your results by pairing them with treatments such as HydraBoost. 
HydraBoost increases the level of hyaluronic acid in the skin, which provides additional protection from fine lines and wrinkles. It also encourages longer-term production of collagen and elastin which will tighten and plump the look of your skin, with the added bonus of hydration from the hyaluronic acid. When combining the treatment of HydraBoost with the results from your injectable fillers, you will feel refreshed, hydrated, and having natural-looking, lasting results.
Skincare Products
On top of other treatments like the HydraBoost, you can use medical-grade skincare products to boost the results of your treatments and have a proactive approach to skincare. 
Many skincare products are created for post-injectables often use ingredients like hyaluronic acid to restore the skin surface, and encourage the production of essential components to create glowing, healthy skin. The following skincare products were created to work with your injectables to not only provide a healthy and refreshed look but also to smooth the look of wrinkles and fine lines. 
Alastin INhance Post-Injection Serum
The Alastin INhance Post-Injection Serum was the 2020 award winner for "The Best Post-Injection Treatment" for its TriHex Technology® to work directly with injectables. The serum helps to accelerate recovery from bruising or swelling and also improves the look of skin quality by supporting the natural production of collagen, elastin, and hyaluronic acid. 
You can not only use this product right after your injectable treatment but use it after some time to create a lasting result.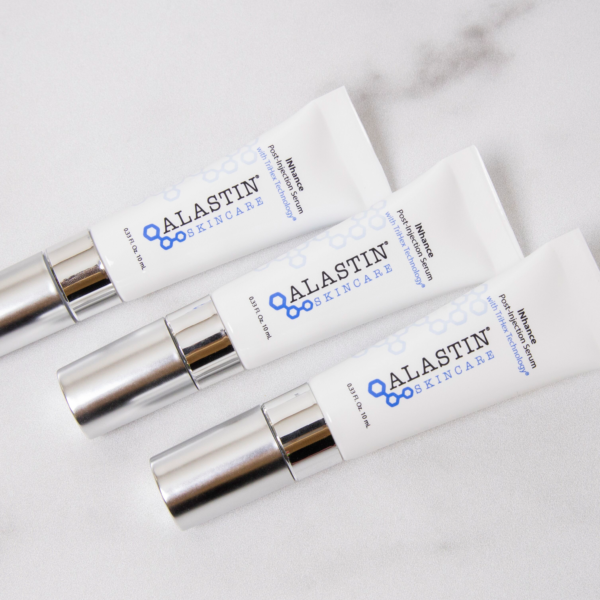 What is Tri-Hex
Technology
®
? 
Alastin has created the TriHex Technology®, a blend of active peptides and botanicals that naturally support your skin's life cycle. It promotes the recycling, rebuilding, and replenishing of the skin to ensure that you see lasting results from their products. These results can include a healthy glow, youthful appearance, hydration, and more. 
How to Use Alastin INhance
After your injectable treatment:
Squeeze a small amount of serum on the cooling applicator tip.

Apply the serum on and around the injection sites.

Repeat this process 4 times daily.
If you are using other skincare products, apply INhance on cleansed skin, then follow with additional serums, eye cream, moisturizer, and SPF. 
Use after Injectables
This is a great product to improve the overall treatment process because it reduces the look of any swelling or bruising from the injection sites. Additionally, it works with the natural processes of our skin to clear out damaged elastin and collagen to then support the new production of healthier elastin and collagen. 
The serum comes with a sleek, cooling applicator that provides a soothing and refreshing look after use. The product is non-comedogenic and works best if used around the eyes and lips. 
Alastin products are backed by science to ensure that you can have minimal downtime from your injectable treatment, and create a lasting look. Additionally, it is made for any skin types with a hypoallergenic 
SkinCeuticals H.A. Intensifier 
The SkinCeuticals H.A. Intensifier is a corrective serum that increases the skin's hyaluronic acid levels. The serum contains pure hyaluronic acid, proxylane™, licorice root extract, and purple rice extract. The combination of ingredients supports the skin's hyaluronic acid levels while providing overall hydration to give a firm, plump and smooth look. 
Hyaluronic acid is a natural humectant that helps us to regulate the amounts of moisture in our skin. It has a short life cycle, where production starts decreasing in our 20's and accelerates when we reach our 40's. It is a powerful hydrator because it isn't as easily absorbed into the skin, so the H.A. Intensifier can achieve surface hydration and increased production of hyaluronic acid.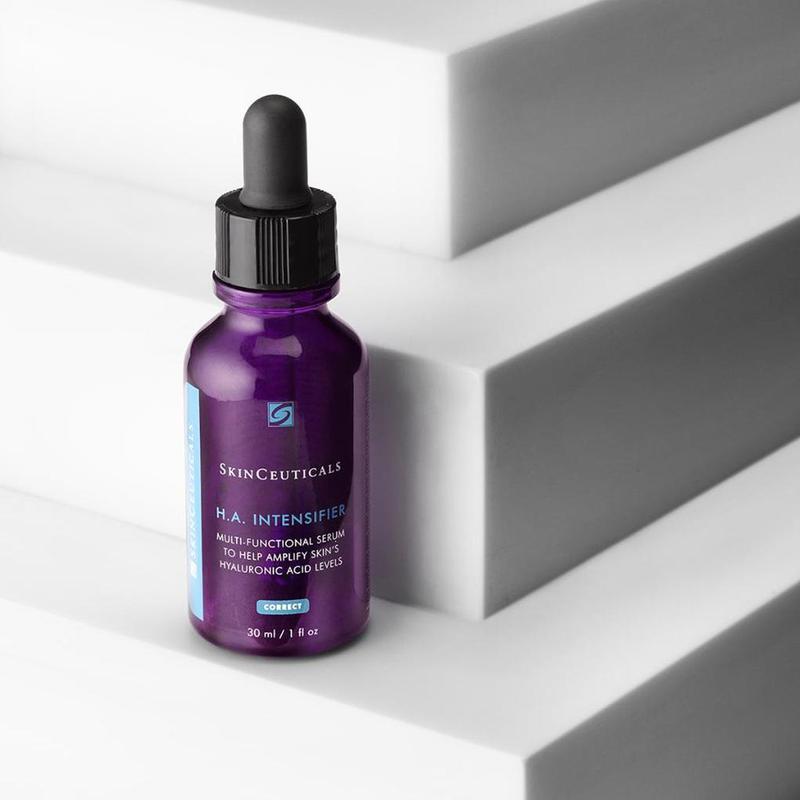 How to use SkinCeuticals H.A. Intensifier 
You should use the serum in the morning, after your cleansing, toning, and vitamin C serum. You should:
Apply 4-6 drops of the SkinCeuticals H.A. Intensifier on the palm of your hand, and rub your hands together. 

Lightly pat your hands on your forehead, cheeks, chin, and neck.

Blend the serum into the skin. 

Complete the routine with a SkinCeuticals mineral sunscreen.
At night, you can use this serum after your retinol application. 
Use after Injectables
This product is great for use to support injectable fillers, because it reduces the look of crow's feet, nasolabial folds, and marionette lines, creating a smoother, hydrated look. 
In addition to enhancing the skin's hyaluronic acid production, it also creates a smooth canvas on the skin. This serum is gluten-, paraben, and dye-free.
---