Use these fall skin care tips to ensure your daily routine prevents, protects and corrects damage and dehydration as temperatures begin to drop.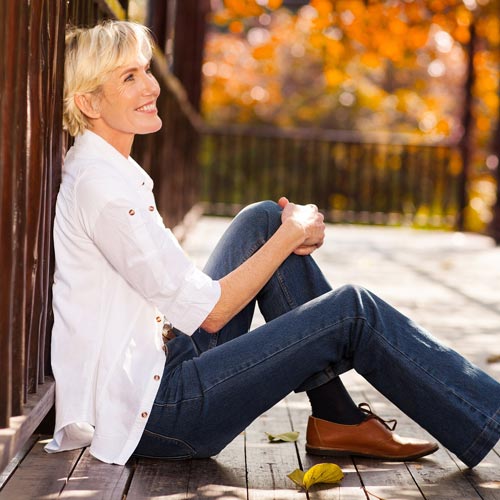 Winter weather is around the corner and along with the changing seasons come shifts in how our skin functions and behaves. Uneven tone from the summer sun, dry patches, flaking skin, sensitivity and redness are just some of the symptoms our skin can experience with the turning leaves. As such, fall is the perfect time of year to reevaluate our skincare and beauty routine to address sun damage and compensate for the drying effects the approaching winter weather. In this article, we discuss what you can consider changing in your routine and professional treatments to ensure beautiful and vibrant skin through the fall and winter months.
Steps to transition your skin for the fall and winter seasons.
Step 1. Go through your medicine cabinet and makeup bag. If you purchased a lip gloss in the spring, it's past its prime. Who really needs an excuse to transition into the richer makeup tones for fall, right? Any products in your skincare or makeup repertoire that are older than six months should be thrown out. Most skin care products are safe to use for up to six months after opening. Beyond that time, the natural preservative systems do not function optimally and the risk of bacterial or fungal contamination increases. Additionally any active ingredients will have lost their potency and product performance will suffer.

Step 2. Once you've disposed of things that are no longer fresh and active, you can evaluate what to replace.

In anticipation of Calgary's cold and dry winter weather, consider a cream or gel cleanser rather than a foaming cleanser. Preventous Cosmetic recommends: SkinCeuticals Gentle Cleanser or Celazome Hydrating Cleanser – formulated for all skin types, including sensitive skin conditions, these gentle cream cleansers remove impurities without drying or stripping the skin.

Our skin changes over the fall and winter months. It produces less of its own moisture through natural sebum production. Switching to a richer moisturizer in the fall is the perfect fix for this change. Preventous Cosmetic recommends: SkinCeuticals Emmolience cream or Celazome Restorative Cream – made for the Calgary climate. Our high altitude combined with our chilly winters make for a reputably dry atmosphere. These solutions deeply nourish skin with nutrient-rich active ingredients and essential oils without leaving a tacky or heavy residue on the skin's surface.
All skin types can benefit from addressing skin dehydration in the winter. The constant environmental shifts from the chilly outdoors into the forced heat inside can contribute to a tight feeling and skin flaking. A hydrating serum concentrated with hyaluronic acid adds much needed hydration into the skin and helps to prevent moisture loss. Preventous Cosmetic recommends: SkinCeuticals Hydrating B5 Gel or Celazome CODE 4 – lightweight hydration and skin soothing vitamins to plump fine lines and give the skin a dewy glow.
Step 3. What we do in our everyday beauty routine is integral to maintaining healthy and beautiful skin for the long term however, this alone cannot achieve the results of a medical-grade professional treatment. After a summer of sun, visiting your cosmetic physician and medical aesthetician for in-office care sets the stage for gorgeous skin into the holiday season. A tailored course of treatments and a customized skincare routine can be established to achieve your goals. Treatments such as chemical peels, microdermabrasion, Clear+Brilliant®, Photo Facials and Fraxel® are all fantastic options to treat and repair sun damage and yield luminous skin for the fall.
Don't let this weather take a toll on your skin. For more information about the treatments we've discussed here and for expert advice on how to transition your skincare routine for the fall and winter, Preventous Cosmetic welcomes you to book in for a complimentary consultation with one of our skin experts TODAY. Call 403.229.0129 or email .
---