Holiday events are an opportunity to look and feel our best. Part of the glamour of dressing up for the holidays may even include enhancing our lashes. Lash extensions are a relatively new beauty trend that is increasingly popular amongst women.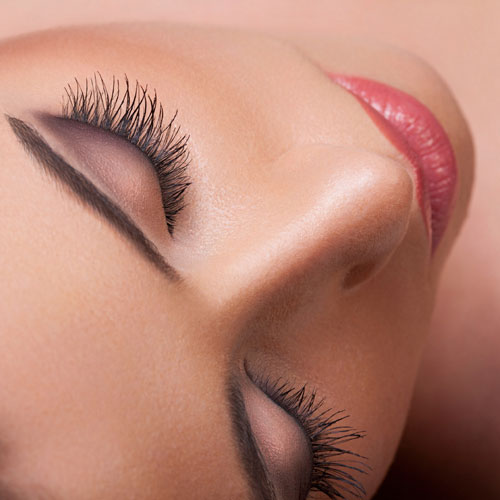 Extensions offer long, full and dark lashes without the required effort of lash curlers and layered mascara. Although they offer a seemingly risk-free option to enhancing your gaze, there are some concerns regarding lash extensions that are worth knowing. In this article, we outline some of these issues and share a safe and effective treatment for natural lash enhancement.
The ugly side of lash extensions
Waking up every day with long, full and dark lashes that require no effort has massive appeal. Unfortunately, there are possible negative impacts on the health of your eyes and natural lashes from lash extensions. These include:
Loss of natural lashes | The turgor or pressure exerted from lash extensions can cause the lash to fall out before its natural hair growth cycle ends. This may damage the hair follicle and inhibit future hair growth – possibly stopping it all together – a condition known as traction alopecia.
Inflammation / allergic reaction | Formaldehyde vapours from glue, or possible migration of glue into the eyes can cause irritation, itching and swelling. This inflammation can cause an infection of the cornea known as Keratoconjunctivitis.
As if losing one's natural lashes isn't bad enough, a vicious cycle develops since one is prompted to replace the missing lashes with the application of more lash extensions. An added burden: the time and cost involved with maintaining lash extensions can be taxing. Fortunately, there is a scientifically proven treatment that can nurture the growth of healthy, long, full and dark lashes of your very own.
A nightly ritual for beautiful lashes
Waking up with the lashes of your dreams doesn't have to involve the application of lash extensions and the aforementioned possible negative impacts. There is a medically prescribed treatment that is proven to enhance the natural growth and beauty of eyelashes. The treatment's active ingredient bimatoprost affects the anagen (first) and catagen (second) phases of the hair growth cycle in two ways. First, the time span in which the hair growth occurs is prolonged and second, the quantity of hairs is increased. This results in longer, fuller and darker lashes. Introducing a lash enhancement treatment such as LATISSE® into your nightly routine requires little effort and yields results within just four weeks.
Make your lashes stand out for all the right reasons. To learn more about this lash enhancement treatment, Preventous Cosmetic Medical invites you to request a lash consultation. Call 403.229.0129 or email .
---