EMSELLA is a breakthrough treatment for urinary incontinence for women and men.
A weakened pelvic floor can cause urinary incontinence and affects over 3.5 million Canadians. Weight gain, and aging, and women, pregnancy and childbirth in women, can contribute to pelvic floor weakening and urinary incontinence. Regain control and confidence with this unique, completely non-invasive option.
A weak pelvic floor may contribute to an inability to control the bowels or bladder, cause back pain and weakness and /or lead to less pleasure with sexual intercourse. For men, weak pelvic floor muscles can lead to issues with erections, ejaculation and urination. Strengthening the pelvic floor is part of a comprehensive erectile dysfunction treatment plan.
BTL Emsella™ is a breakthrough treatment for incontinence. This unique technology revolutionizes intimate health and wellness by offering men and women a non-invasive solution for pelvic floor weakness.
Treat incontinence by strengthening the pelvic floor
Strengthens vaginal walls for improve sexual satisfaction in women
Treat erectile dysfunction in men
How does EMSELLA work?
---
This highly effective treatment draws its therapeutic power from focused electromagnetic energy. A single EMSELLA™ session induces thousands of pelvic floor contractions, which reeducate and tighten the pelvic floor muscles. EMSELLA™ treatment improves bladder control to prevent urinary leakage for both men and women.
Key effectiveness is based on focused electromagnetic energy. A single EMSELLA session induces thousands of supramaximal pelvic floor muscle contractions, which are extremely important in muscle re-education of incontinent patients.
95% of treated patients reported significant improvement
Treats the entire pelvic floor with thousands of contractions per session
Patients remain fully clothed
Results in as little as one session with no surgery
EMSELLA Frequently Asked Questions
---
Am I a candidate for EMSELLA?
EMSELLA is a great option for women and men of any age who desire a solution for urinary incontinence and improvement in their quality of life.
What is the treatment time?
A typical treatment takes about 30 minutes and you will need about 6 sessions, scheduled twice a week. Preventous will tailor a treatment plan for you.
What does EMSELLA feel like?
You will experience tingling and pelvic floor muscle contractions during the procedure. There is no pain and you may resume daily activities immediately after the treatment.
How fast will I see results?
You may observe improvement after a single session. The results will typically continue to improve over the next few weeks.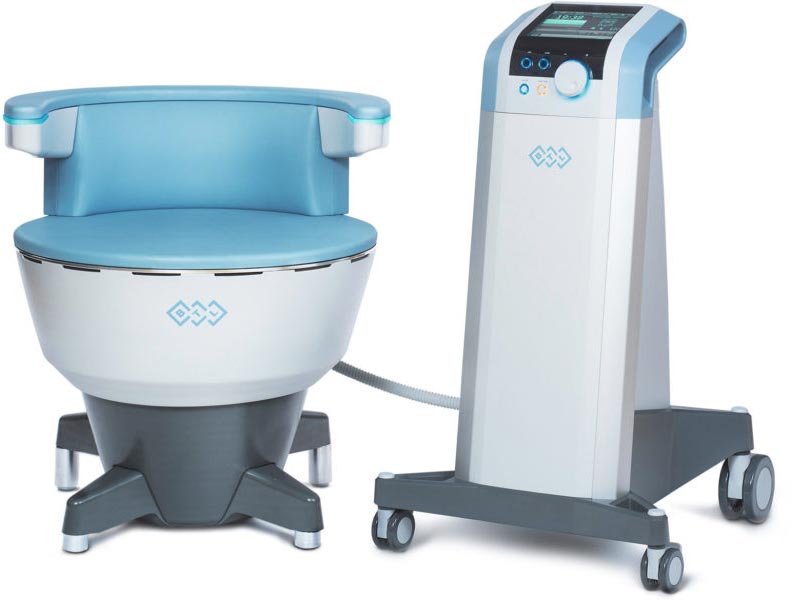 EMSELLA Calgary prices
---
EMSELLA is an affordable treatment for incontinence. This non-invasive and non-surgical procedure allows you to return to normal activities with no extra costs from downtime!
| | |
| --- | --- |
| Initial 6 treatments | $1,800 |
| Second set of 6 treatments | $1,500 |
| Maintenance (Recommended every 6 months) | $500 (2 treatments) |
Affordable Cosmetic Financing
---
Flexible payment plans are available to help you achieve the look you want with affordable installments. Preventous Patients can now apply for financing through PayBright online or in-person at our Calgary clinics.