Discover the relaxed and comfortable process from start to finish with Calgary's CoolSculpting experts.
Your CoolSculpting Assessment
---
We will show you results from our Preventous CoolSculpting patients. Don't worry, these patient gave us permission to show their photos and are excited to show their results!
We will discuss which areas you want to treat, determine if you are a candidate and create a personalized treatment plan that will fit your goals, schedule, and budget.
Pre-treatment Photos & CoolSculpting Planning
---
Before starting your treatment we will weigh you and take photos of the treatment areas from different angles. These base-line photos provide a record for comparison as fat reduces gradually in the weeks following treatment. During post-treatment follow-ups, you will see side-by-side visible changes.
Next we will map out the treatment area with coloured markings that precisely identify where to place each cooling device to create the best possible contour.
Starting Your CoolSculpting Treatment
---
You will be positioned comfortably on the treatment table. A thin gel pad will be placed on your skin to protect from frostbite. The CoolSculpting device is placed against the markings for about 35 to 45 minutes where fat cells crystalizes while the surrounding tissue remains unharmed.
The treatment area will feel cold for approximately 5-10 minutes. The sensation is tolerable and the coolness subsides as the area numbs. You should not feel anything at this point.
Post Treatment Results of CoolSculpting
---
Your body naturally removed the crystallized fat cell over the next few weeks. You may start noticing a difference at about the 4 week and most people see dramatic results after about 8 weeks. Results and patient experience may vary, but an average person can see 25% reduction of fat in the treated area. Remember that this fat is eliminated from your boy and is gone for good!
A follow-up visit at approximately 12 weeks post-treatment will allow us to take photos for comparison purposes and see the before and after results side-by-side. You may opt to do additional treatments for further fat reduction or contouring.
CoolSculpting Calgary can get rid of fat without surgery or needles
When diet and exercise aren't enough, CoolSculpting can effectively reduce stubborn areas of fat. Are you ready to experience body contouring on your schedule with little to no downtime? Book your complimentary consultation and let's start a conversation!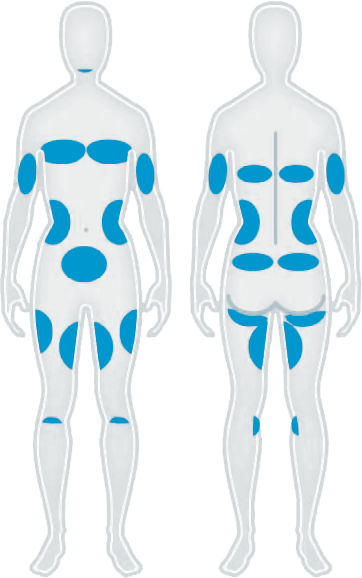 Book your complientary CoolSculpting consult today!
Text COOL to 403.229.0129 or complete this form: