CoolSculpting is an FDA-cleared non-surgical procedure for removing stubborn fat—the areas that drive you crazy because they refuse to respond to exercise or diet. More than six million procedures have taken place around the world and more than five thousand people have participated in clinical trials, allowing doctors to prove that CoolSculpting fat freezing is both safe and effective.
---
Calgary CoolSculpting Specials
Achieve your fat loss goals with CoolsSculpting at Preventous Cosmetic. Enjoy featured packages for multiple sessions and combined packages for enhanced results. Explore opportunities for additional savings from the Brilliant Distinctions® program! Contact us today to learn more about how we are going to make you feel beautiful for years to come with treatments like Hydrafacial, Hydraboost, anti-wrinkle injections, fillers, laser technology & medical grade skincare.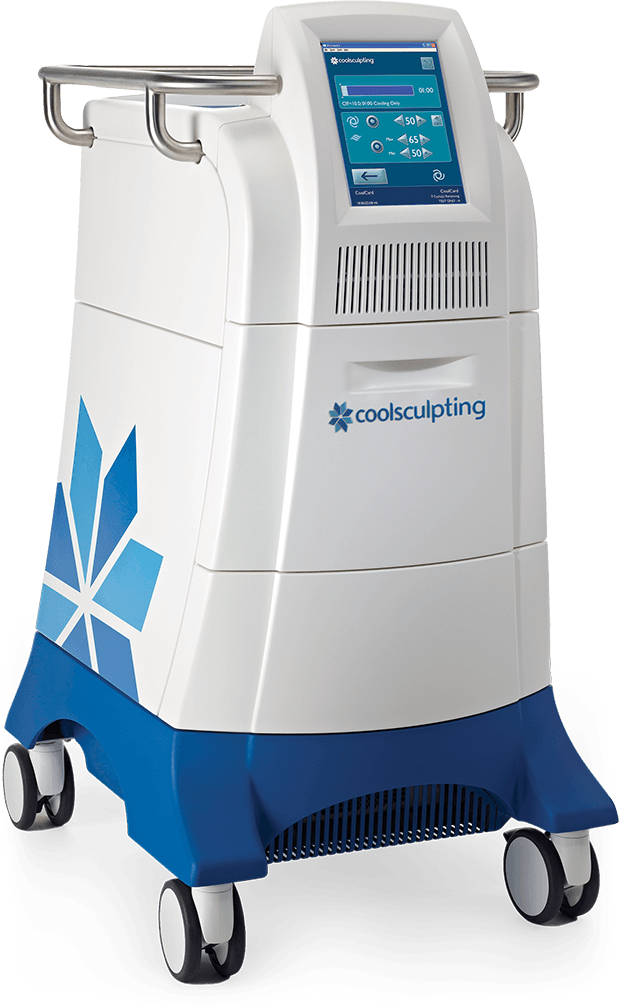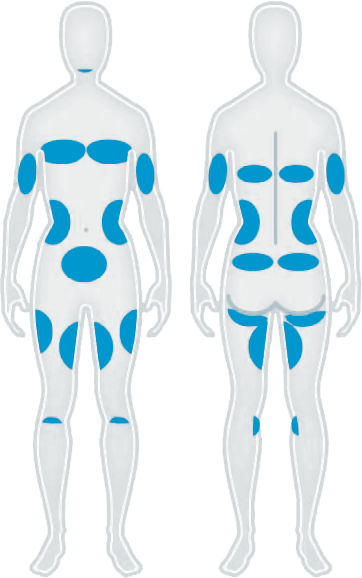 Target
stubborn fat
CoolSculpting is an effective way to remove fat cells from the following areas of your body:
Thighs (outer, inner)
Abdomen (tummy, belly fat)
Love handle (spare tire, muffin top)
Arms
Double chin
Saddlebags
Stubborn lumps and bumps
People everywhere are benefiting from the proven results of CoolSculpting.
CoolSculpting is the world's #1 non-invasive fat reduction procedure
Millions of procedures are performed worldwide
FDA-cleared, safe, and effective
Once treated, fat cells are gone for good
How CoolSculpting works
Fat gets cooled to just above freezing.
Within the fat cells, crystals form, and then the fat cells die.
As fat cells die they collapse and a natural process removes the dead cells through the lymphatic system.
The natural elimination process can take up to four months after treatment to remove dead fat cells, resulting in fat layer reduction.
Up to 25% reduction in the area treated
CoolSculpting is non-intrusive and non-surgical, so there is typically little to no downtime. You should be able to return to your normal activities right away. There may be some side effects (see CoolSculpting Side Effects & Benefits section to learn more).
People may start to see results as early as three weeks after the procedure. Most people will experience the most dramatic results between one and three months.
Remember that results vary. Your Preventous clinician will be able to help you understand what you can expect from CoolSculpting.
In as little as 35 minutes
with no downtime
A CoolSculpting treatment take approximately 35 to 60 minutes The duration of a treatment varies depending on how many areas of the body are being treated. Your CoolSculpting clinician will let you know what to expect for your unique situation.
We are one of the few Calgary clinics that has two CoolSculpting devices. This means you can have multiple areas treated at the same time.
Safe and comfortable
CoolSculpting is a safe, comfortable and tolerable treatment.
During the treatment you may experience uncomfortable sensations, such as pulling, tugging, mild pinching, intense cold, tingling, stinging, aching, and cramping at the treatment site. These sensations are less intense as the area becomes numb.
Is CoolSculpting
right for me?
Just about every patient can benefit from CoolSculpting.
CoolSculpting fat freezing is not for people who are obese and need to lose weight. It may be right for you if you are close to your target weight (within 25 or 30 pounds) and can "pinch an inch" in certain body areas.
There are certain medical conditions that do not go well with CoolSculpting. Working with medical professionals will ensure that you can achieve your goals for your body in a way that is safe for you.
You may be a candidate for other body contouring technologies such as EMSculpt. Or you may be able to use both treatments with each other. Learn more about CoolSculpting vs EMSculpt or contact us to discover which one is right for you.
DualSculpting
We are one of the few Calgary clinics that have two CoolSculpting devices. This means, with DualSculpting, you can have 2 areas treated at the same time and trim your treatment time in half!
One thing that everybody should know about CoolSculpting is that it actually works!
If feels so good to put on anything and know that I look as good as I ever looked!
Learn more about CoolSculpting
What does CoolSculpting do?
CoolSculpting selectively targets and removes unwanted fat. It's based on the science of cryolipolysis, which was developed after Harvard scientists noticed that some children who ate popsicles got dimples. They discovered that the cold popsicles were freezing and eliminating small fat cell pockets.
Their research revealed that when using very specific cold temperatures in a controlled setting, freezing fat would induce cell death, and then the body would naturally clear the dead fat cells.
Using the CoolSculpting system, precisely controlled cold can be delivered to target and kill specific fat cells. The treated fat cells are naturally eliminated from your body in the weeks following the procedure, giving you long-term results.
Does CoolSculpting Work?
It does! It's a scientifically proven fact that cold kills fat cells. Once fat cells are killed and eliminated from the body, they are gone for good.
It is possible for a person to gain weight in the future but the weight would be more evenly distributed in the body. Losing fat and losing weight are not the same thing.
In general, people have a fixed number of fat cells. When we gain weight, the fat cells get bigger. When we lose weight the fat cells get smaller. Either way, the number of fat cells stays the same.
CoolSculpting works by reducing the number of fat cells in the area treated. The number of fat cells is reduced by about 20 to 25 percent.
CoolSculpting Side Effects & Benefits
CoolSculpting side effects are typically not very bothersome. During the treatment you may experience uncomfortable sensations, such as pulling, tugging, mild pinching, intense cold, tingling, stinging, aching, and cramping at the treatment site. These sensations are less intense as the area becomes numb.
After your procedure, you may experience side effects such as temporary redness, swelling, blanching, bruising, firmness, tingling, stinging, tenderness, cramping, aching, itching, or skin sensitivity. Side effects should go away within days or weeks. Though rare, additional side effects may occur.
If you are experiencing side effects that concern you after a CoolSculpting procedure, contact your clinician right away.
There are a number of benefits to this non-surgical, non-invasive method of sculpting the body you want. Here are a few of the ways CoolSculpting can benefit you:
You'll feel better about your body. (And never having to focus on that troublesome area again!)
It will help you achieve transformational results with as little as one treatment
You don't have to face needles, knives, or anesthesia.
There is no special diet, special exercise program, or supplements.
Once the treated fat cells are eliminated, they will not come back.
There is little or no downtime after the procedure.
This revolutionary body contouring treatment is effective for both men and women.
What Does a CoolSculpting Treatment Feel Like?
It's cold! Initially you will probably feel intense cold and you may feel some of the sensations discussed in the CoolSculpting Side Effects & Benefits section, such as pulling or tingling.
After five or 10 minutes, the area will go numb. You are welcome to work on your laptop, read, or nap during the session. When the procedure is complete, your clinician will massage the area for a few minutes. There may be some tingling as the numbing goes away.
The treatment itself is usually not uncomfortable. A gel pad and applicator are applied to the target area and your clinician delivers controlled cooling to the fat cells.
Is CoolSculpting Safe?
The CoolSculpting procedure has been clinically tested on more than 5,000 people and doctors have concluded that it is both safe and effective. It has been FDA-cleared for the treatment of stubborn fat bulges.
CoolSculpting allows you to avoid the risks of surgery as well as the downtime that comes with having a surgical procedure.
Does CoolSculpting Work for a Double Chin?
It does. With CoolSculpting, you can target fat under the chin and sculpt the neck.
The double chin adds years to your appearance. But many people would like to avoid the risks of surgery. CoolSculpting can help you reduce fat under the chin and contour your neck for a younger, fresher looking you. Typically, people see results after just one or two treatments, without needles or surgery and with little to no downtime.
CoolSculpting Cost
All of our cosmetic medicine services are tailored to each individual. You will need to be assessed by our nurse and physician in our Calgary clinic and the cost of CoolSculpting will be provided as part of your customized treatment plan.
The cost of CoolSculpting depends on the number of treatments you need to achieve your goals and which areas of your body you want to treat. Some areas may need more than one treatment.
The cost of CoolSculpting isn't as important when choosing a provider as is the effectiveness of the procedure, which depends on the skill and expertise of the CoolSculpting clinician. Our clinicians are experienced Licensed Practical Nurses who have a strong understanding of the body and how it will react to the procedure.
* CoolSculpting is a registered trademark of ZELTIQ Aesthetics, Inc.
Experienced
and trusted
We're excited that our Calgary clinic can now offer this exciting new technology to our clients! Our team members have undergone in-depth training and are certified to perform CoolSculpting treatments in our medical facility.
Preventous Cosmetic Medicine has been involved with body contouring for over 8 years. Our treatments are performed by experienced, medically trained nurses and physicians rather than estheticians.
What to expect at your CoolSculpting Consultation
When you ask us about CoolSculpting, we'll schedule a consultation with you. During this time, you'll discuss your goals with your CoolSculpting clinician. Together, we'll look at your entire body from different angles, including the specific areas of fat you want to eliminate.
Your clinician will develop a customized treatment plan designed to help you achieve your goals. You may need more than one CoolSculpting treatment, depending on your individual needs and goals.
Ready to start your complimentary consultation? Learn about the relaxed and comfortable process from start to finish.
Book your complimentary consultation today!
Book a complimentary consultation and find out if CoolSculpting is right for you is. You'll be assessed by our nurse and physician, who can tell you whether CoolSculpting is right for you or whether a different treatment would be more effective to achieve the results you want.
More important though is that you'll get to get to meet us in person and decide if we're the right fit for you. We understand this is a major decision for you and you have to feel comfortable with the provider you choose. It's not just about the treatment—it's the people behind the treatment that count.