Anti Aging, Anti Wrinkle Cream
Wrinkles and aging go hand in hand. As we age, we may start seeing fine lines, drier skin, age spots, sagging skin and deepened lines and expressions.
You can?t stop the aging process, but you can slow down the signs of aging with high quality, medical grade anti aging, anti wrinkle creams.
Celazome No. 45 Firming Peptide Trio
Benefits of a trademarked complex of potent peptides and natural botanical are amplified by revolutionary Lyphazome Nanotechnology in Celazome?s No. 45 Firming Peptide Trio. An elegant formulation offers instant benefits and longterm tightening and brightening.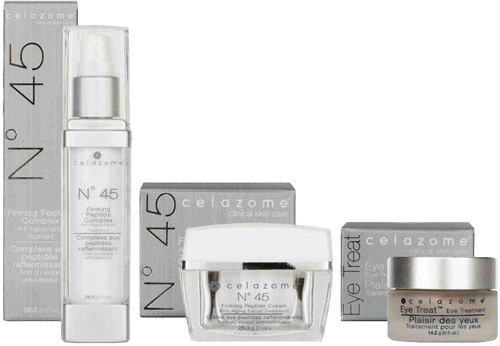 Use Celazome?s No. 45 Firming Peptide Trio to:
Hydrate, sooth and help prevent free radical damage
Help tighten skin
Reduce the degree of existing wrinkles
Prevent skin laxity and the formation of new wrinkles
Skincare products may be used alone or to complement cosmetic treatments such as BOTOX COSMETIC® treatments and facial fillers.
Anti Aging, Anti Wrinkle products That Work
Try the Celazome No.45 Firming Peptide Trio and experience the advantages of medical grade products.
BOTOX COSMETIC® is a registered trademark of Allergan Inc.
---