A hand-selected team of specialized aesthetic physicians, nurses and certified support staff await you at Preventous Cosmetic. We work closely together to thoughtfully address our patients' needs – always with a little humour and a lot of warmth.
Calgary Aesthetic Doctors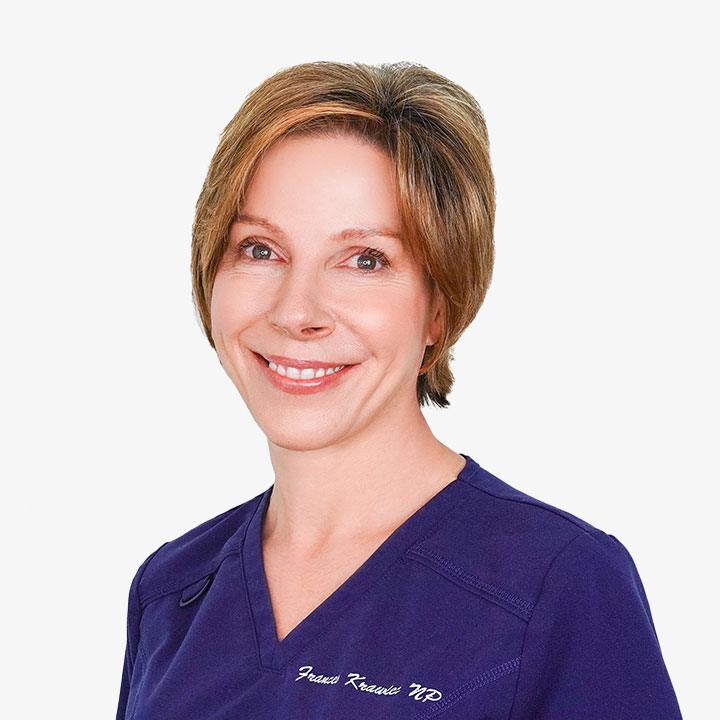 Frances Krawiec
Nurse practitioner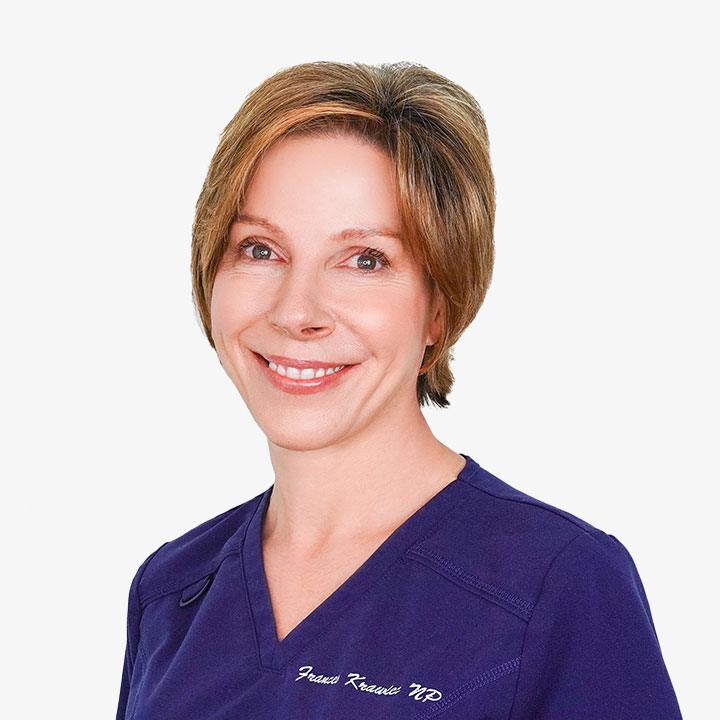 Frances Krawiec
Nurse practitioner
"Beauty is a journey with your patient, and high standards of excellence and precision are always in the forefront of my practice"
Frances Krawiec is a brilliant addition to the Preventous team.  Fran is a highly trained Nurse Practitioner who performs facial rejuvenation services including injectables at Preventous Cosmetic.  As a Nurse Practitioner, Fran is able to provide independent and collaborative comprehensive clinical management of patients bringing together medical and nursing knowledge and values. Fran obtained her Bachelor of Nursing from the University of Calgary and in pursuit of excellence in healthcare, went on to obtain her Masters of Health Sciences from McMaster University and then a Nurse Practitioner Degree from the University of Western Ontario. Subsequently, Fran worked as a Nurse Practitioner in Cardiology at London Health Sciences Center and was nominated for the "Clinical Excellence Award for Cardiovascular Nursing" in 1999, at the Canadian Cardiovascular Council of Nurses Conference.   Fran has worked for more than 20 years as a Nurse Practitioner in the Intensive Care Unit, Cardiology Unit and in cardiovascular medicine.   Her experience in these fields has largely contributed to her exceptional knowledge of anatomy and affords her a unique approach to facial rejuvenation. 
Subsequent to her work in the hospitals, Fran developed an interest in medical aesthetics with a focus on anti-aging, advanced injectable techniques and complex skin conditions.  As a result, Fran went on to train with our own Dr. Rohan Bissoondath, amongst others, and has since practiced as an expert injector for a number of years.  She strongly believes in an individualized approach leading to sophisticated and natural results, one that begins with listening to the patient.  Frances's passion for knowledge in this field is evidenced by her continuous learning attending conferences and teachings all around the world.  Her training includes Mertz Aesthetic Facial Assessment Course, MD Codes Training,  AAIC Aesthetic Anatomy and Injection Course (Virtual), Paris, France with world renowned anatomist Dr. Sebastian Cotofana and Aesthetic Blueprint with Dr. Arthur Swift in Newport, California.  Fran has also attended numerous conferences.
When Fran is not busy helping clients rediscover and maintain their healthy, youthful skin she enjoys travelling or being active outdoors with her busy family. Fran also enjoys oil painting which contributes to her artistic side and her eye for symmetry and proportions.
Francis Krawiec is licensed through the College and Association of Registered Nurses of Alberta (CARNA).  She is a member of CSASN, CCCN, AMS, and IMCAS.
Nurse practitioners (NPs) are registered nurses who have additional education and nursing experience, which enables them to: Autonomously diagnose and treat illnesses. Order and interpret tests. Prescribe medications. Perform medical procedures.
After spending four years in university to obtain an undergraduate degree, prospective nurse practitioners then work for a minimum of two years as registered nurses. They then apply to a two-year master of nursing program, where they specialize in either pediatrics, primary care or adult care.
Expert Calgary Cosmetic Team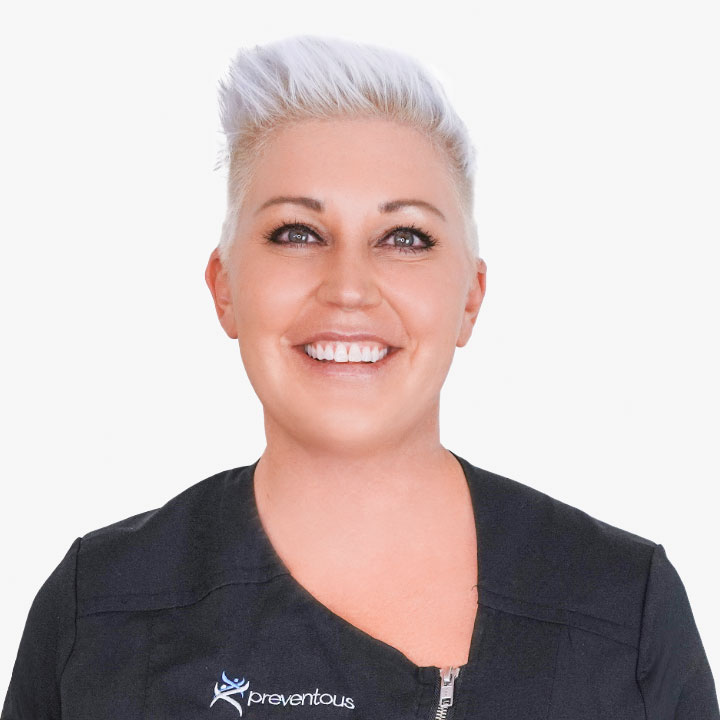 Kim LaPlante
Cosmetic Nurse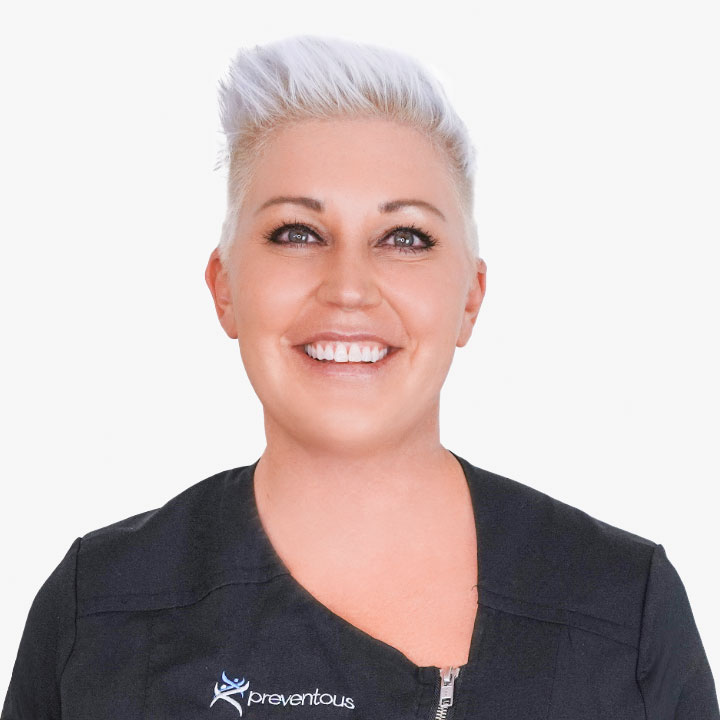 Kim LaPlante
Cosmetic Nurse
Kim is a Licensed Practical Nurse at Preventous Cosmetic Medicine. She will be one of the people you meet when you visit us for aesthetic services. Kim graduated from Bow Valley College in 2003 and subsequently started work in acute care. Kim's passion for looking and feeling her best led her into the field of Dermatology and cosmetic nursing and she has thoroughly enjoyed working in this area for the last 13 years. During this time she has had opportunities to continually increase her skills and knowledge by attending various cosmetic and aesthetic conferences from Calgary to Las Vegas to Paris. She has been certified in cosmeceutical skin care lines such as Obaji, ZO Skin Health, and Celazome as well as numerous laser devices and treatments. She thoroughly enjoys meeting new people. One visit with her and she will put you at ease and ensure you will have the best treatments possible to help the beauty hiding within shine through.
Kim continues her passion for healthy living outside of work as well. She is passionate about doing CrossFit and is a competitive powerlifter. Her love of fitness has also driven her to become a Level One Certified trainer for CrossFit so she can also help others become healthy, fit and confident about themselves inside and out.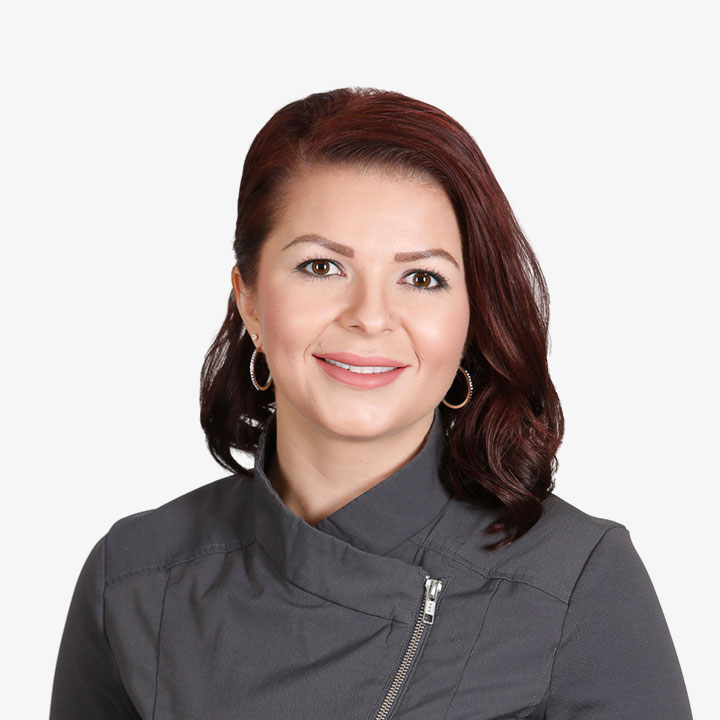 Suzanne Stadler
Cosmetic Nurse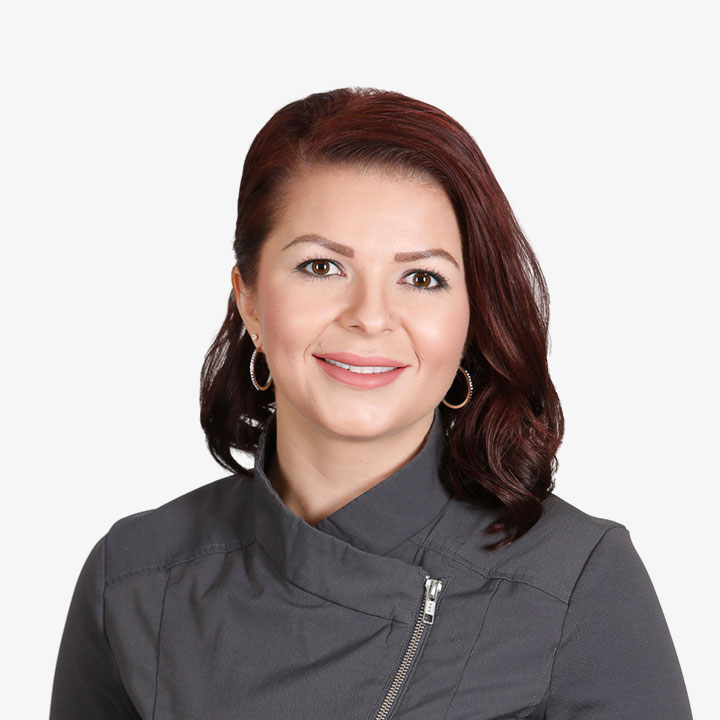 Suzanne Stadler
Cosmetic Nurse
Suzanne is a Licensed Practical Nurse at Preventous.
With a passion for healthy living and a strong belief in the power of prevention for long-term health and longevity, Suzanne is a natural fit with the Preventous family.
Suzanne completed her LPN training at Bow Valley College in 2005. Her experience includes acute care (dialysis), long-term care, occupational health, cosmetic medicine and family medicine.
Suzanne was born and raised in Calgary and enjoys knowing that she is contributing to the health of fellow Calgarians. Compassionate, bubbly and lighthearted, she provides clients with the kind of professional and caring service that makes visiting the clinic a positive experience.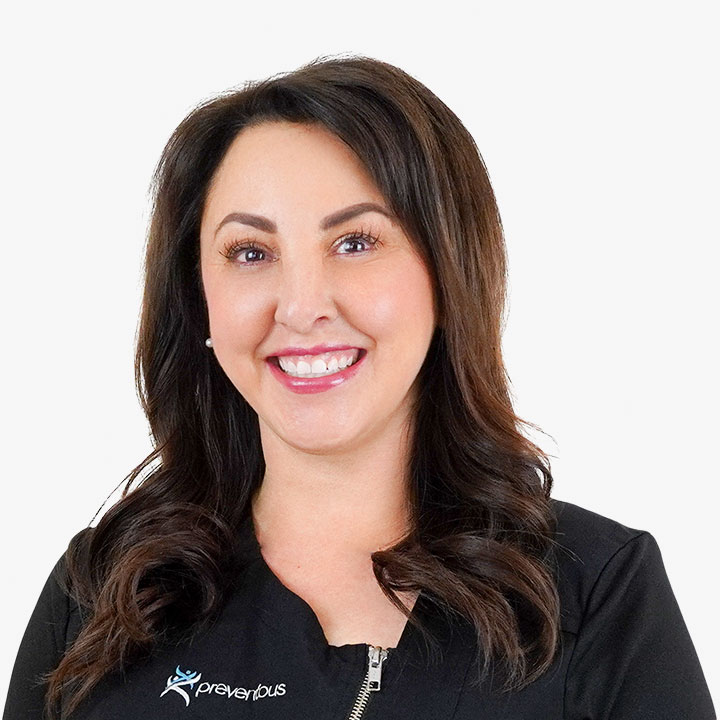 Aimee Anderson
Cosmetic Coordinator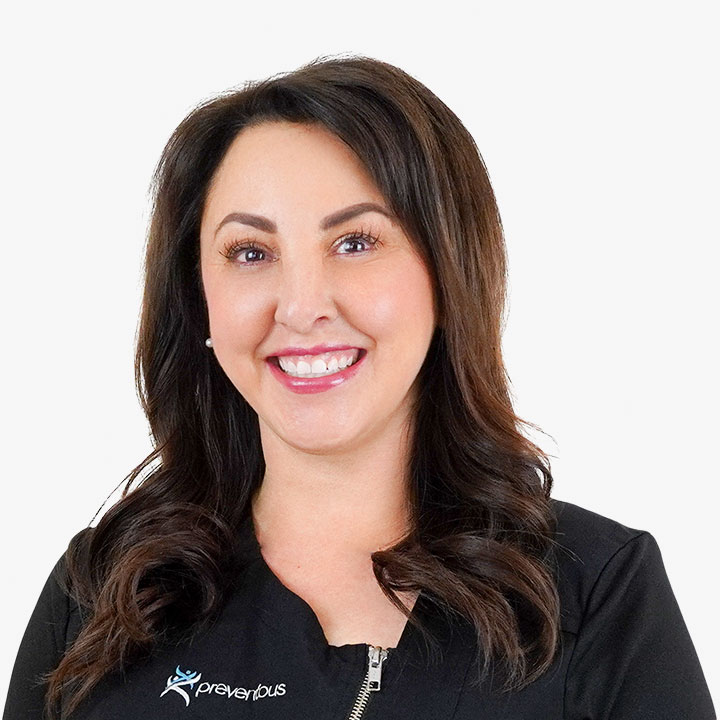 Aimee Anderson
Cosmetic Coordinator
A graduate of the Interior Academy of Aesthetics in the Okanagan Valley, Aimee delivers comprehensive cosmetic medicine advice to help women and men look as good as they feel.
Aimee has more than 10 years of experience and has worked closely with physicians in medical clinics. Her experience includes pre and post-op laser care and performing a range of non-invasive anti-aging treatments. She has also managed aesthetics teams in premier spas and designed and trained high-quality aesthetics departments.
Aimee is certified in cosmeceutical skin-care lines and facial treatments.
When not working, Aimee researches new advancements in the beauty industry, goes to the spa and often escapes Calgary to be with family on Vancouver Island near the ocean.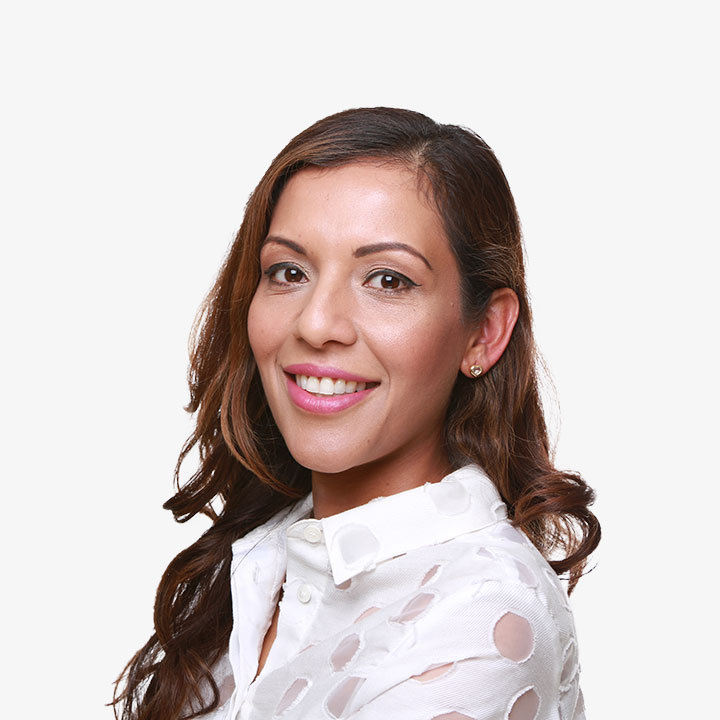 Nalini Bissoondath
Managing Director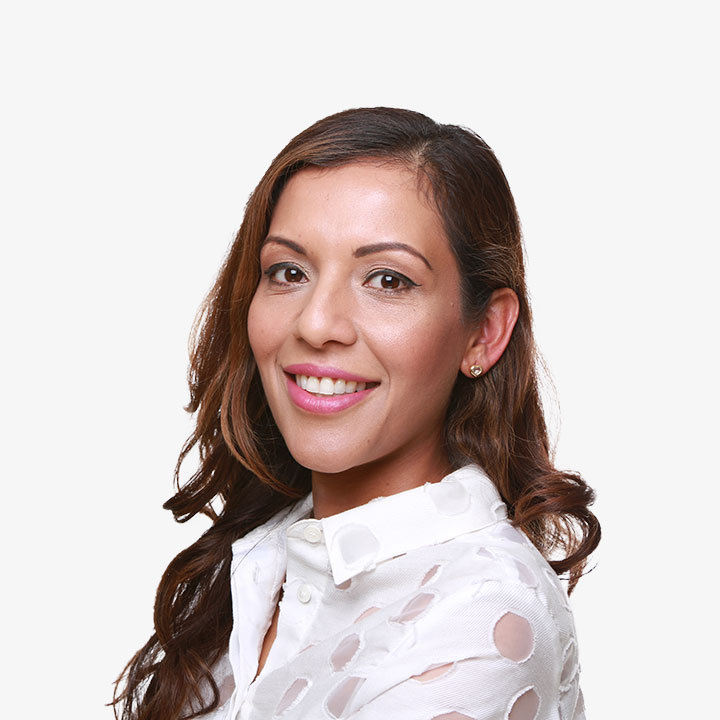 Nalini Bissoondath
Managing Director
Nalini keeps Preventous running smoothly so we can keep your skin in peak health.
The managing director of Preventous Cosmetic Medicine, Nalini supervises our day-to-day operations and ongoing development.
Nalini is passionate about good health and great skin. She has a Bachelor of Laws Honours Degree from the University of Wolverhampton, England, obtained in 1997. She was subsequently called to the Bar of England and Wales in 1998 and is a member of the Honourable Society of Lincoln's Inn.
Nalini is a world traveller. She has lived in Nassau, Bahamas, where she worked in the legal field while completing a series of legal courses. Her travels then placed her in Trinidad where she was admitted to practice as an Attorney-at-Law. She practiced for several years, primarily in the fields of family law, personal injury law and medical legal law, before moving to Canada in 2001. Subsequently she settled in Calgary where she completed the Alberta Bar Admissions course and has worked in both the legal field and the oil and gas sector.
What's a lawyer doing in a Calgary cosmetic clinic? Nalini strongly believes that with the combination of skills possessed by the aesthetic professionals at Preventous Cosmetic Medicine, Preventous can make a major impact, improving your quality of life immeasurably.
Book your
complimentary
consultation today
---
Discover the experience & artistry of Preventous Cosmetic.